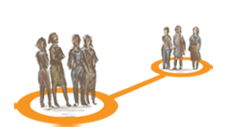 The Geneva Communicators Network is a platform to exchange views, news and information for communication professionals working in the Geneva region, Switzerland. There are many other networks and associations in this region for specialised fields of communications – here is our selection of the best:
Geneva web group: a community of professionals working in the Information Management field with a focus on internet. If you are working in online communications in any way, this is an excellent group to join – they hold very good events (all in English) and have an active email discussion group.
More information>>
CSR Geneva: is a social network for Geneva-based people interested in corporate responsibility, accountability, sustainability, social enterprise, & responsible finance. CSR Geneva holds regular breakfast meetings and conferences on CSR issues (in English). More information >>
Mobile Monday Switzerland: a community of mobile industry professionals, developers and influencers. Mobile Monday's main activities are the community's face-to-face gatherings on every first Monday of the month and virtual networking on Mobile Monday websites. Meetings are often held in Lausanne or Zurich. More information >>
La Société Romande de Relations Publiques (SRRP): this is the French-speaking section of the Swiss PR Association. The SRRP has over 200 members from the PR field throughout the French-speaking region of Switzerland. More information >>
Rezonance: over 20,000 people in Switzerland are members of this network that holds many interesting "first tuesday" evenings and training courses – often on communication themes and occassionally in English… More information >>
Organization of Women in International Trade: a non-profit networking association which attracts women (and men) from the international community in Geneva. All events are in English and often focus on marketing and communication themes. More information >>
Toastmasters International: More of a club than a network, but a useful resource for communicators and those wishing to improve their public speaking and presentation skills. More information >>
GenevaCom
Join stakeholders from government, civil society, IGOs, NGOs, industry and other sectors to share insights in different domains of intellectual property (IP) and development. Explore national, regional and international knowledge and experience on recent [...]
Here you can find a list of  undergraduate and graduate communication programmes in Switzerland taught in English.
Master's programmes:
Degree: M.A. in Digital Media
University: International University in Geneva
Duration: 12 months
Description: This programme is designed for students interested in leading and managing communication and media projects for multinationals, governments and international organizations.
More information >>
Degree: M.Sc. Financial Communication
University: USI Università Della Svizzera Italiana / University of Lugano
Dаuration: 24 months
Description: The MSc in Financial Communication is offered jointly by the Faculty of Economics, and the Faculty of Communication Sciences. This full-time study programme of the Università della Svizzera italiana is held in Lugano – Switzerland, comprises 120 ECTS spread over 4 semesters (usual duration 2 years) and is entirely offered in English.
More information >>
Degree: M.Sc. Communication Management and Health
University: USI Università Della Svizzera Italiana / University of Lugano
Duration: 24 months
Description: The MSc in Communication, Management and Health is offered by Institute of Communication and Health of USI's Faculty of Communication situated in Lugano – Switzerland. This full-time study programme comprises 120 ECTS spread over 4 semesters (usual duration 2 years) and is entirely offered in English.
More information >>
Degree: M.Sc in Corporate Communication
University: USI Università Della Svizzera Italiana / University of Lugano
Duration: 24 months
Description: The MSc in Corporate Communication is offered jointly by the Faculties of Communication Sciences and of Economics of the Università della Svizzera italiana, USI, situated in Lugano – Switzerland. This full-time study programme comprises 120 ECTS spread over 4 semesters (usual duration 2 years) and is entirely offered in English.
More information >>
Degree: International MBA in Communication & Public Relations
University: EU Business School (Geneva, Montreux)
Duration: 7 months
Description: Programme designed for those aspiring to positions in public relations, advertising, marketing and communication. Students not only learn the essentials of communication but gain the confidence and articulation necessary to become persuasive public speakers.
More information >>
Bachelor's programmes:
Degree: B.A. in Digital Media
University: International University in Geneva
Duration: 36 months
Description: Programme designed for high school graduates interested in pursuing careers in media and journalism in multinationals, governments and international organizations.
More information >>
Degree: B.A. Communication & Public Relations
University: EU Business School (Geneva, Montreux)
Duration: 36 months
Description: Communication and public relations professionals are vital to both organizations and society as a whole. The digital world – where consumers are no longer passive audiences, but active participants – constantly blurs the lines between businesses and consumers. Our graduates are trained to drive companies forward by tapping into new digital techniques that others are slow to adopt.
More information >>
Degree: B.A. Media Communications
University: Webster University Geneva
Duration: 36 – 48 months
Description: A major in Media Communications will provide the essential skills in oral and written communications and critical thinking. In addition it is possible to choose an area of emphasis in journalism, photography, interactive media, speech communications or video production.
More information >>
GenevaCom
Our March lunchtime speaker, Michael Gentle on business writing, has just published a new free guide "Five steps to better email - how to write emails that people will actually read". You can download [...]