1/2 Day Workshop for Entrepreneurs & Small Business Owners
10:00 – Saturday, 21 October 2017 (Lausanne)

WHO IS THIS FOR?
This workshop will be particularly useful for early-stage entrepreneurs (micro businesses, one man shows, people just getting started) in the service industries but even established entrepreneurs will get value from gaining more clarity on what is working or not in their existing positioning, so that they can do better than their competitors.

EVER FEEL LIKE THIS ABOUT THE COMPETITION?
Do you sometimes feel like there is so much competition out there it's like a 'battlefield'?
Do you have trouble explaining to potential clients why they should pick you?
Have people ever told you they don't quite understand what it is that you do?
Don't feel bad – you are not alone! Many entrepreneurs, especially those just starting out, cannot clearly explain the value of what they do and instead compete on price, not getting paid enough for their services as a result. Are you one of them?

CLIENTS CHOOSING TO WORK WITH​ YOU
A client choosing you over someone else to do business with, that's what we all want. It's a great feeling, isn't it? And the road to getting to shake hands sealing the deal with more clients lies in having a clear brand positioning.
Brand positioning helps you get clarity on who you are, who your target market is and how you can help solve their problems better than your competitors.
Would you like to have a brand that allows you to stand out from the competition?
A brand that does half of your selling for you even before you start talking to a perspective client?
A brand that helps you command the money you deserve for your services and not compete on price?

DURING THE WORKSHOP, YOU WILL GET CLARITY ON:
Who you are as a business (your values, your "why", your expertise)
Who your audience is & what they need
What your offer is
How to position yourself against competition

YOU WILL WALK AWAY WITH:
Confidence and clear understanding of how to present yourself as a professional that you are
Completed brand positioning document for your specific business to refer to for your future activities
A plan of what else you need to do (next steps) to help you further position yourself as an expert

DATE & TIME: Saturday, 21 October 2017, 10:00-14:00
LOCATION: Lausanne

MORE INFO & TO REGISTER: Please visit the event page and sign up.

ABOUT THE TRAINER: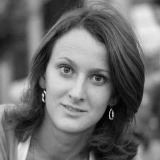 Ekaterina Filippova, board member of the Geneva Communicators Network and owner and founder of eKat Communication works with entrepreneurs in the Lake Geneva region who don't know how to position themselves to get clients or where to start with their online communication. She helps them build an image online that reflects them as the experts that they really are, which gets them clients, money and confidence to run their business effectively (not to mention they get to focus on the thing they love to do!).
Ekaterina has over 10 years of communication experience and holds an MA in media and communication. She works in English, French and Russian and is a frequent speaker and trainer on social media and communication.

MORE INFO: Visit workshop description page on eKat Communication website