Request for Proposals (RFP): Re-development of Website
Purpose
The Defeat-NCD Partnership invites web designers or design agencies to re-develop, design and host the Partnership's website, which can currently be found at https://defeat-ncd.org.
This RFP provides potential bidders with an overview of requirements they are expected to deliver on and criteria against which their proposals will be assessed. Vendors are expected to complete the task according to the set timeline and within the cost that is agreed. It is understood that details may be subject to change upon vendor recommendation and / or research of more optimal solutions. In your proposal, please feel free to make such suggestions.
The vendor team is expected to include fluent English language skills and good availability to interact with the Defeat-NCD Partnership manager for this project as it proceeds.
Project Overview
The Defeat-NCD Partnership has a website that needs to be re-designed and restructured, in terms of text, pictures, layout and navigational structure. The deadline for this project is 5 April 2018.
The re-developed website is expected to fulfill the subsequent functions:
Ensure information is provided in an accessible and user-friendly manner;
Streamline user experience;
Showcase and promote the organization's work, communications and social media activity;
Demonstrate the organization's expertise in key focus areas;
Encourage increased traffic to the website; and
Increase search engine ranking.
Background
The Defeat-NCD Partnership is addressing one of the most significant global health problems of this age: premature death, sickness, and disability from selected non-communicable diseases, primarily diabetes and hypertension. It aims to reduce the burden on resource poor countries through increased access to a range of interconnected essential services and resources with a focus on treatment.
The focus on diabetes and hypertension is justified by their huge public health significance. On their own, and especially in combination, these cause by far the most global NCD deaths – some 1.6 million deaths yearly are attributed to diabetes, and 5.7 million are attributed to hypertension (out of some 17.7 million from cardiovascular conditions more broadly).
The Partnership is focusing initially on diabetes and hypertension, and expanding to other NCDs when feasible and working with governments, multilateral agencies, civil society, philanthropic foundations, and the private sector.
The Partnership works by mobilising global knowledge, tools, capacities, and finances to benefit resource-poor countries according to their specific needs and defined NCD action plans. This includes the populations of humanitarian concern that are hosted by them. The priority focus is on the 49 least developed and low-income countries with technical capacity building support also available to a further 43 lower middle-income countries.
The Defeat-NCD Partnership prioritises countries according to their development and income status. Top priority is being given to the least developed countries, as defined by the United Nations, and lowincome countries, as defined by the World Bank. The selected vendor will be given more detailed information to enable them to better understand the work of the Defeat-NCD Partnership.
Project Goals
All proposals submitted as part of this RFP need to reflect the following requirements:
Overview of website architecture outlining suggested website sections and subsections.
Ensure the online content is accessible on all platforms offering a user experience reflecting up-to-date industry standards (PC, tablet, smart phone, etc.).
Website content, such as news, statements, programme descriptions and blog updates need to be easy to update and edit preferably through an Open Source Software.
As part of the contract, website support, and one set of changes based on user analytics will be required. As will a solution for the maintenance of the website after its launch.
Google Analytics need to be integrated.
A training session to staff about how to use the website and the content management system will need to be included in the proposal.
Content Management
The website needs to be able to contain new text, audio and video content in the most common formats.
The website must be responsive for use on mobile device platforms.
The website needs to integrate and interact with the most common social media applications
such as Facebook, Twitter, YouTube, etc. Content needs to be made available throughout all of these channels.
Though text and website architecture has been included in this RFP, high quality images that reflect the text on every page will need to be included.
A proper hosting solution will need to be found, with VPS hosting options preferable. Please
provide information about minimum guaranteed uptime and response times of the hosting server in the proposal.
All rights of the content and the creation of the site must belong to The Defeat-NCD Partnership.
Expansion capability with additional sub-pages as content expands is expected.
Proposed Sitemap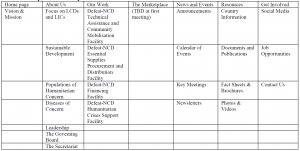 Scope of Work
Project management
Illustration
Information design – wireframes
Visual design – source and edit high quality images
Search engine optimization
Front-end coding (HTML/CSS, animations)
Back-end coding (CMS, 3rd party APIs)
Web hosting
Mobile device optimization
Testing & quality assurance
Software training
Analytics software – Google analytics
Ongoing Support
Project Timeline
The deadline is April 5, 2018, with earlier completion welcome. The selected vendor will be expected to start work immediately, on notification of acceptance of the proposal.
RFP Submissions
The following submission requirements should be reflected in the proposals:
Information about the company and overview of previous client activities. Please include examples of similar projects.
Presentation of individuals to perform the work with a short summary of qualifications and previous experience.
Schedule for the delivery of the suggested accomplishments according to phases.
Budget overview for the required tasks including maintenance costs, training and future upgrades.
Details of proposed hosting server and location.
Deadline
The deadline for submitting the RFP proposals is March 10, 2018.
Proposals need to be submitted electronically to Aliyah Esmail (aliyah.esmail@defeatncd.org) and Melanie Gerster (melanie.gerster@defeat-ncd.org).
The email subject must include "The Defeat-NCD Partnership RFP Website Development". A confirmation of receipt will be sent to the bidders.
Selection process
The Defeat-NCD Partnership will contact relevant candidates and negotiations will start immediately.
All other candidates will be informed about the selection outcome after the submission deadline.