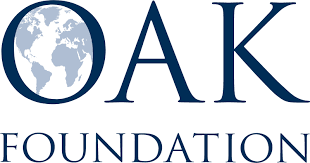 Oak Foundation commits its resources to address issues of global, social and environmental concern, particularly those that have a major impact on the lives of the disadvantaged. Oak Foundation makes grants to organisations located in approximately 40 countries worldwide.
Background
Oak Foundation holds a Global Retreat for all its staff every five years. Our hope is that the next Global Retreat will provide us with the space to:
• Reflect on past achievements and challenges
• Affirm the common values that guide our work
• Consider future priorities for Oak
• Learn from each other
• Strengthen our internal networks and collaboration
• Reinvigorate our individual and collective efforts
• Explore the broader contexts in which we work
• Identify challenges and opportunities that define our work
• Inspire, motivate and connect us to each other and to Oak's mission in the world
The foundation is searching for a coordinator for the Global Retreat, which will take place from 19-23 July 2021. They are looking for someone to work as follows:
1. 60 per cent from 1 July 2020 to 31 January 2021
2. 100 per cent from 1 February 2021 to 31 August 2021
Responsibilities
Pre-Retreat responsibilities
The coordinator fills an important role in planning the Retreat. During the first few months, the coordinator's primary job is to help the co-chairs to: book vendors (i.e., photographer and writers, etc.) for activities and events; organise dinners and activities at the event location; take meeting minutes; follow up on requests; and coordinate the various exploratory meetings of the committee and subcommittees.
In addition to the above, the coordinator's job is centred on creating an organisational system to facilitate the work of the committee members and others. These tools should help map all relevant information for participants.
The coordinator also: creates a working budget; drafts communications to staff for co-chairs; drafts a survey to register guests to the Retreat; creates food allergy records to tailor catering; finalises all logistics for speakers and special guests; coordinates with vendors; drafts agreements; and creates schedules for deliverables.
A few months prior to the Retreat, the coordinator: finalises all agreements with vendors and speakers; collects bios and information to be used in the programme; provides draft material for the formal programme for internal and external guests; and maps Retreat logistics, which involves several weeks of organising and coordinating with committee members, hotels and vendors.
The coordinator will be expected to travel a few times from Geneva to Lyon, the conference site, to visit the venue and potential locations for events.
Retreat responsibilities
The coordinator's main job at the Retreat will be to make sure that all of the logistics, which will be carefully planned, fit together seamlessly at the Retreat. During the Retreat, the coordinator will be responsible for all aspects of the lodging, vendors and venues (including ensuring and trouble shooting any IT needs in the meeting rooms). The Retreat coordinator also act as an "event producer" during the Retreat and needs to manage the technical needs of staging several sessions in one day.
Post Retreat responsibilities
With assistance from a co-chair and President, the coordinator will: finalise all invoices; present a final budget to the Director of Administration and President; assemble all photographic records into Flickr; liaise with speakers/presenters; draft surveys and a survey report; and gather all communication material needed for a final Retreat report, among other tasks.
Position requirements
The ideal coordinator will have:
• extensive event planning experience;
• high attention to detail;
• the ability to travel to Lyon, France;
• the ability to juggle a wide range of responsibilities that may demand ongoing reprioritisation;
• demonstrated ability to work both independently and as part of a team;
• poise, maturity, warmth, curiosity, humility, and a good sense of humour;
• excellent oral and written communication skills in English. A second major language and/or a region-specific expertise would be an asset;
• demonstrated openness and capacity to learn quickly;
• excellent computer skills (Office, e-mail, database management, desk research); and
• committed to Oak's organisational values.
How to apply
To apply, please send your curriculum vitae and a covering letter by e-mail only to – commdept@oakfnd.org no later than 22 June 2020. In the subject line please put Retreat coordinator – Oak. Applicants must be able to work as a consultant in Geneva, or have an EU or Swiss nationality or valid work permit. Please note that we will only be contacting shortlisted candidates.
By submitting your application, you confirm that you have read and understood Oak's job applicant's data privacy notice.
Location: Geneva, Switzerland
Reporting to: co-chairs of Global Retreat
Type of contract: part-time consultant or temporary employee
Start date: 1 July 2020 – 31 August 2021
Application deadline: 22 June 2020