This seminar is the first of the series of events aimed at helping entrepreneurs in Lake Geneva region better promote their businesses online.
FEELING INTIMIDATED BY THE COMPETITION?
As an entrepreneur in Switzerland, you often face both national and global competition. You compete against similar solutions of comparable quality, likely at a lower price.
Why should someone buy from you and not a competitor? How can you stand out in your particular industry and command Swiss prices?
In our hyper-connected world, the answer is to position yourself online as an expert in your field. Being an expert is like having a "Swiss quality" stamp on your business. It convinces potential clients that you deliver the results they need and your solutions are worth investing their money in.
In this seminar, you will learn how to brand yourself as an expert and will walk away with actionable tips to create an online image that sets you apart.
Join us to improve your online visibility, credibility and ultimately, become the go-to choice for the type of services that you offer!
SEMINAR OBJECTIVES:
Understand what makes someone be perceived as an expert
Learn what you can do to brand yourself as an expert in your field
Get actionable tips on setting yourself apart from your competitors
WHO IS THIS FOR?
This seminar will be particularly useful for early-stage entrepreneurs (micro businesses, one man shows, people just getting started) in the service industries but even established entrepreneurs will get value from practical tips on improving their online positioning to do better than their competitors.
PROGRAMME:
18:30 – 19:00 Registration & welcome
19:00 – 20:00 Presentation
20:00 – 21:30 Questions & Networking
DATE:
Wednesday, 4 October 2017
LOCATION:
Do It Better Coworking
Rue du Valentin 1
1004 Lausanne
Lausanne
SEMINAR COST: FREE! *Please note that registration is REQUIRED to be able to attend the event.
HOW TO REGISTER: Please visit the event page and sign up.
ABOUT THE SPEAKER: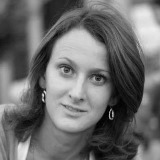 Ekaterina Filippova, board member of the Geneva Communicators Network and owner and founder of eKat Communication works with entrepreneurs in the Lake Geneva region who don't know how to position themselves to get clients or where to start with their online communication. She helps them build an image online that reflects them as the experts that they really are, which gets them clients, money and confidence to run their business effectively (not to mention they get to focus on the thing they love to do!).
Ekaterina has over 10 years of communication experience and holds an MA in media and communication. She works in English, French and Russian and is a frequent speaker and trainer on social media and communication.
MORE INFO: Visit seminar description page on eKat Communication website
SaveSave